Iron Fabrication & Iron Railing Subcontractor Serving Raleigh, NC
If you are a home builder or commercial builder in the Raleigh NC area, Cast Iron Elegance invites you to examine the difference between our work and other local iron fabricators. Cast Iron Elegance is respected throughout the Triangle for our timely professional service and the quality of our materials and services.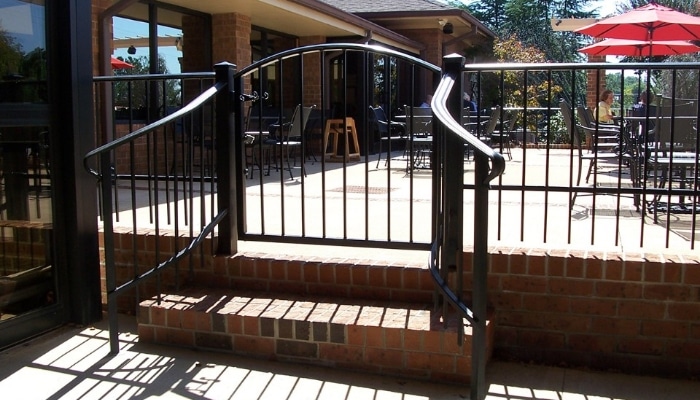 Curb appeal is important to every homeowner. Just as your door is the gateway to your home, the railings on your porch and leading to your door is the "handshake" of your home. It can take less than a year for poorly constructed iron railings to become weakened, wobbly and rusty- even bleeding a trail of rust along the concrete and bricks of the home. This can lead to unsatisfied customers and the initial perception that the quality of the home is not what it should be.
If you aren't sure what you are looking for in iron fabrication, you might not immediately see a difference, but it is there.
Get More For Your Money With Cast Iron Elegance
All of the railings built by Cast Iron Elegance feature the following at no additional charge:
High-quality iron with ¼" thick posts (so they don't distort and split)
Fully welded pickets that don't allow water to enter and get trapped, avoiding rust.
All parts powder coated with UVA protection (lasts 2-5 times longer than traditional paint process)
Protective decorative boots over the base of posts to protect most rust-prone spots from weather.
High-quality fasteners with washers to ensure proper installation
Our side tabs have customized spade designs, adding to the elegance
Count On Exceptional Value
Because we offer a significantly higher quality of product and installation than most of our competition, we can't guarantee that we will always offer the lowest price, although we offer, by far, the greatest value.
We believe that once you use Cast Iron Elegance, you will be pleased with how easy we make things, how reliable we are, and most of all, what a value-enhancing product we add to your homes. If you are looking for an iron railing fabricator (Or an iron fabricator for any other building need), we will be happy to offer you an introductory price on your first 5 projects!
Transform Your Business Or Commercial Property Today!
Thinking of bringing a classy new look to your business location? Then let's get it done! To get your introductory price offer and start your project on the path to artistic success, send us a message online or call 919-662-8983 today!