Raleigh, NC's Wrought Iron Railing Professionals
It's no secret that the Raleigh-Cary metro area is filled with beautiful homes. They all don't flaunt iron railings like homes in older cities do. Because of our explosive growth since the 1980s, only a small portion of homes have been built with iron railings outside. The use of treated wood and increase of iron ore prices made building outdoor structures with wood much more cost-effective. Similar to particle-board siding replacing wood and brick siding, building railings and fences of wood meant a builder could offer more home for less, albeit at a sacrifice of product quality and durability.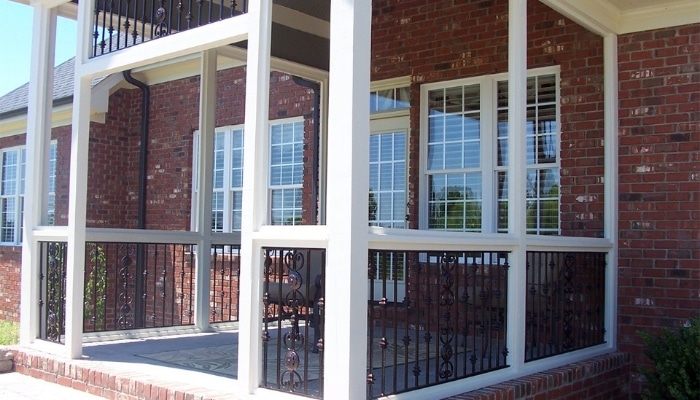 Improve Your Home's Look & Its Durability
Replacing the wooden railings on your porch, stairs, and decks allow you to add a level of sophistication to your curb appeal while stopping the need of continual painting and replacing rotted wooden railings. Custom iron railings can have small upgrades with big impact like scrolling iron pickets and finials.
We exclusively powder coat every railing we install. This, along with the top-quality iron we use, prevents rust and leaves you a virtually maintenance-free railing!
Quality Of Work Is A Matter Of Beauty & Safety
When you choose to replace your wood railings with iron railings, make sure your iron railings are installed correctly. A poorly installed railing can cause serious injury, even death! Whether your ground surface is wood, concrete, brick, or block, there is a specific installation process that must be followed to ensure railings are securely installed for permanent safety. Cast Iron Elegance is a leader in professional installation so you never have to worry!
Our beautiful metal railings can be created to match any design that your mind can imagine. Our designers will consult with you to plan the perfect metal railing system to match your home, lifestyle and budget. Check out our gallery to see examples of our past work. Don't see what you like? Bring us any picture you've found online or in a magazine and we'll create it for you.
Upgrade Your Home Today!
Replacing your wooden railings with professionally crafted wrought iron railings enhances your home's look with a more durable, long-lasting option. When you're ready to transform your home, send us a message online or call 919-662-8983 !